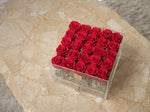 What are Preserved Roses?
What are preserved roses and what is the best way to care for them? We will reveal what preserved roses are, how long they last, how to care for them, and the benefits of buying preserved roses.
Roses are one of the most popular flowers in the world. It is not a big surprise as to why Roses are the most highly received flowers on Valentine's Day and the most used in wedding bouquets. There is a level of eloquence, beauty, and class that is associated with roses. Roses are also commonly given as birthday gifts and anniversary gifts to a loved one.
Unfortunately, fresh roses wilt and wither sooner than they would like and then are forced to be thrown out. Also, there is a lot of work that goes into maintaining your fresh cut roses to look beautiful and healthy. You are required to cut the stems, use fresh water and nutrients for the roses. You will have to change the water quite often to keep them fresh – all this for a week; maybe a week and half. Then the rose buds will wilt and the petals will start falling off. This doesn't sound too fun or exciting.
What are preserved roses?
Preserved roses are real roses that have been selected at the height of their bloom and beauty and have then gone under a safe preservation process. The roses still look and feel the same as before. They preserve that fresh feel and look and the petals remain soft and beautiful. The incredible part about preserved roses is that they last one to three years and sometimes even longer than that, if cared for properly.
The care required for preserved roses is very simple and low maintenance, if any. Here are 4 tips to practice on your preserved roses in order to thrive.
1. Do not water your preserved roses:
There is no water or a vase required for persevered roses. If you receive a preserved roses arrangement from Evergreen Select then they are already carefully placed in a perfect setting and ready to fill your home with joy and positive energy. Water is actually detrimental to your preserved roses. Using water on preserved roses may actually hurt the preservation properties that have been used in preserving the roses.
2. Keep Preserved Roses in a Cool Setting:
Whether you have fresh roses or preserved roses from Evergreen Select, heat and excess humidity will decrease the lifespan of your roses. Please keep your preserved roses in a cool space within your home.
3. Be Delicate with the Rose Petals:
Preserved Roses are considered real. And when handling real roses, you need to be very careful and gentle with the petals. This is the same when handling your preserved roses. Do not place any object on top of them or bend or fold them. Just allow them to beautifully thrive in your home!
4. Cleaning Preserved Roses:
Unlike fresh roses, preserved roses, over time may attract some dust here and there. This is inevitable. The most effective way to remove the dust off of the preserved roses is to lightly use a dust blower.
What are the Benefits of Preserved Roses?
There are many benefits to having Preserved Roses vs. traditional fresh cut roses but we will highlight a few of the major benefits:
Preserved Roses are low maintenance:
The only maintenance preserved roses may require is some light dusting from time to time. Please be very gentle when dusting your preserved roses.
Preserved roses make for an incredible gift:
Preserved roses are the perfect gift for Anniversaries, Birthdays, Valentine's Day, Mother's Day, and more! Roses are a true symbol of love, care, appreciation, and beauty. Who doesn't love receiving roses as a gift? – Especially roses that will last 1 to 3 years.
Preserved Roses are Cost Effective:
For someone that loves roses and likes to be the surrounded by their beauty all of the time, then Preserved Roses are the perfect fit. Switching out fresh cut roses every week or 10 days can get extremely expensive. Also, the upkeep and maintenance of fresh cut roses is a lot more than the maintenance of preserved roses.
Preserved Roses last 1 to 3 years:
Fortunately, Preserved Roses have gone through a safe preservation process in which we are able to capture their physical form, beauty, and elegance for a lot longer than traditional fresh cut roses. Typically, preserved roses last about 3 years before you start to see any deterioration or fading of the color. In some cases preserved roses last even longer than 3 years, given the proper care.